ARVOS team
Contact: arvos@mission-base.com Peter Graf & Tamiko Thiel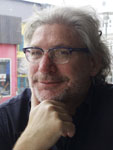 Peter Graf is a software developer with over 25 years of experience and a pioneer in web server design. In 1995 he helped bring the New York Times online for the first time, and from 1995-2002 he was co-founder and Director Engineering for blaxxun Interactive, at that time the leading company in 3d multi-user online virtual world technology. He will consult on and guide further development as main technical advisor.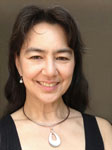 Tamiko Thiel is an internationally recognized augmented reality artist and co-founder of the augmented reality artist group Manifest.AR. She has participated in Manifest.AR's highly regarded guerrilla AR intervention into the Museum of Modern Art New York in 2010, and led their guerrilla intervention into the Venice Biennale in 2011 (See excerpt from Whitney Museum New Media Curator Christiane Paul's reference book Digital Art). She has taught AR as an art form at the Berlin University of the Arts (Germany), Duke University (USA) and Nanyang Technological University (Singapore). She will accompany the development process as advisor in the areas of functionality and user interface.
Ulrich Zurucker has many years of experience as a sound technician and, more recently, as app developer for iOS.